Gradient Generator
I have been working a browser based gradient generator. I've never had the best experience using gradient generators, so I decided to see if I could do better.
It is a prototype right now (a weekend project), but I am hoping to do more with it as time permits.
Features
It outputs to CSS, Canvas, and SVG
Allows for separate color and alpha stops
Keyboard support (left, shift+left, right, shift+right, ctrl+c, ctrl+v)
You can Copy/Paste current stop
Undo/Redo
Easily sharable URLs with the hash tag Example gradient or a GET parameter (Example with GET parameter).
Local Storage Support to keep track of your work

Potential Future Features

Support for radial gradients
Cross browser CSS output
Saving your gradients to server
Multiple layers for stacked gradients
More CSS 3 effect generators (box shadows, rounded corners, etc) built into the UI
Any other ideas? Leave a comment or tweet them to @bgrins!
I haven't come up with a better name yet, so check it out here: http://briangrinstead.com/gradient!
Gradient Generator Screenshot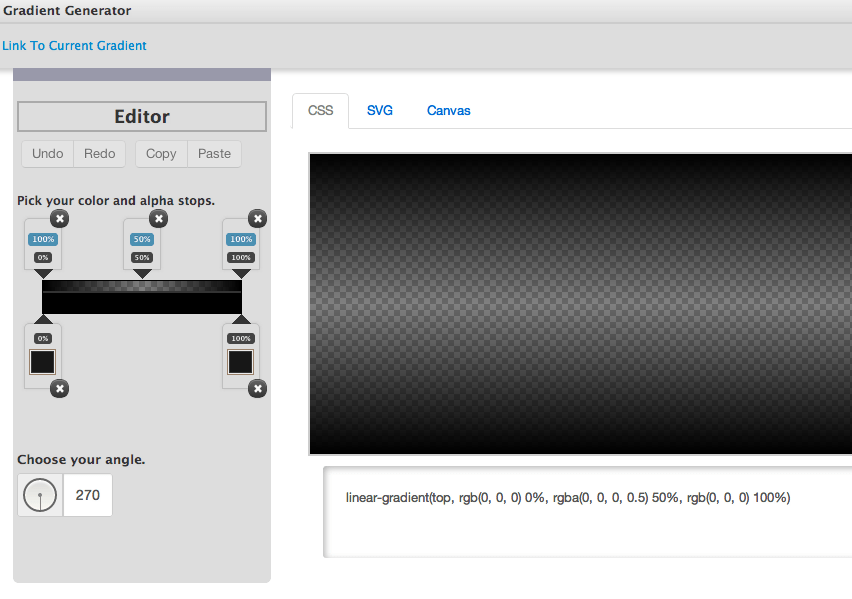 Comments
Comments are closed. Please contact me instead.